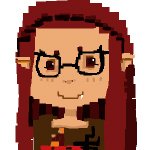 Daswhox
Hi, i'm Daswhox, French illustrator and game artist. I am a fan of SFFF . I love Tolkien book's, Evangelion, Shingeki no Kyojin With a team, we work about indie game project; it's a tough job, but exciting. I can not wait to introduce him. My deviantart: Daswhox My Tumblr:http://daswhox.tumblr.com/ Fanpage Pandora factory: https://www.facebook.com/pages/Pandora-factory/712088482136587 I agree to draw commissions. Contact me: chosobn@gmail.com Daswhox joined Society6 on February 5, 2015
More
Hi, i'm Daswhox, French illustrator and game artist. I am a fan of SFFF . I love Tolkien book's, Evangelion, Shingeki no Kyojin With a team, we work about indie game project; it's a tough job, but exciting. I can not wait to introduce him.
My deviantart: Daswhox My Tumblr:http://daswhox.tumblr.com/ Fanpage Pandora factory: https://www.facebook.com/pages/Pandora-factory/712088482136587
I agree to draw commissions. Contact me: chosobn@gmail.com
Daswhox joined Society6 on February 5, 2015.
Daswhox's Store
29 results
Filter