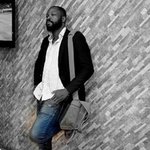 David Emeka Kalu
David Emeka Kalu is a poet and writer living in Abuja, Nigeria. A University of Nigeria, Nsukka, trained Fine Artist, he favours surrealistic and expressionist paintings executed in acrylic and pastels. He is also an avid photographer fascinated with portraiture in interesting settings, and with capturing nature in its diverse dimensions. Inspired by the examples of Fela Kuti, Ngugi Wa T'hiongo and Pablo Picasso, who challenged political oppression and the implications of war in their music, literature and art, David Emeka Kalu recognizes the Arts are a potential tool for social change. He aspires, with his writing and photography, to address such issues as the poor governance and corruption inherent in his country, Nigeria. And the underdevelopment and dearth of infrastructure, chief of which is the chronic and debilitating insufficiency of electrical power. He is involved in a photography project, Pipu of Naija, which will showcase the culture, people and collective as well as individual responses to Nigerian life. His first book, Do Not Go Gentle, a fictional work, which analyses the socio-political situation in Nigeria, is currently in the process of publication. David Emeka Kalu joined Society6 on August 3, 2015
More
David Emeka Kalu is a poet and writer living in Abuja, Nigeria. A University of Nigeria, Nsukka, trained Fine Artist, he favours surrealistic and expressionist paintings executed in acrylic and pastels. He is also an avid photographer fascinated with portraiture in interesting settings, and with capturing nature in its diverse dimensions.
Inspired by the examples of Fela Kuti, Ngugi Wa T'hiongo and Pablo Picasso, who challenged political oppression and the implications of war in their music, literature and art, David Emeka Kalu recognizes the Arts are a potential tool for social change. He aspires, with his writing and photography, to address such issues as the poor governance and corruption inherent in his country, Nigeria. And the underdevelopment and dearth of infrastructure, chief of which is the chronic and debilitating insufficiency of electrical power.
He is involved in a photography project, Pipu of Naija, which will showcase the culture, people and collective as well as individual responses to Nigerian life. His first book, Do Not Go Gentle, a fictional work, which analyses the socio-political situation in Nigeria, is currently in the process of publication.
David Emeka Kalu joined Society6 on August 3, 2015.
David Emeka Kalu's Store
36 results
Filter