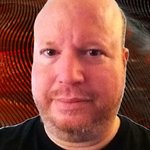 David Lazarus
I've always had a creative side. The challenge was finding a way to express it. Drawing or painting by hand is not something I was ever good at doing. I used to draw stuff and create simple graphics on the Commodore 64 in the 80's. Then, I stumbled upon FractInt for DOS in the late 80's. It was interesting, but pretty limited. So, it didn't hold my interest very long. I got into photo editing in the early to mid 90's. In 1997, I discovered a great fractal rendering app called Iterations written by Stephen C Ferguson. Iterations had outstanding capabilities for its time. Lots of equations to choose from, filters, gradients, and plenty of parameters to adjust too. You could even enter your own custom equations. Though some of the links are broken, you can still view some of the art I did using Iterations at my Geocities archive. I also discovered an interesting program called Artsong written by David Strohbeen. Artsong could generate music from fractals through an algorithm that converted colors to notes. I beta tested an early version of the program. However, it uses a completely different engine now than it did back in the late 90's. I still have a few fractal songs . . . .somewhere. After a bit of a hiatus, I discovered a program called Chaoscope that uses strange attractors to create many types of fractals. It's a bit more limited than Iterations, but Chaoscope is still a cool program. Then, I discovered a whole new realm a couple of years later. Fractal landscapes. I downloaded and played around with a program called Terragen. It was still in beta phase at the time and I was using version 0.9.x. It was pretty cool. However, once I learned the ropes, I found it a bit limiting because it wasn't able to produce trees and other types of vegetation. Then, Planetside Software went from the free beta version to an expensive version 2; skipping right over version 1. A trial of version 2 was available. However, they completely changed the interface which made things significantly more complicated. So, that was the end of using Terragen for landscape rendering. Next, in 2013, I discovered one of the most versatile, prolific fractal rendering apps out there: JWildfire by Andreas Maschke. JWildfire was amazing as a beta. Currently at version 1.9 (latest non-alpha/beta), it has become absolutely incredible! At inception, JWildfire was based on Apophysis. However, the interface was much better and the current capabilities far outdo Apophysis and it still has a friendlier interface. I discovered a cool 3D character modeling app called Daz Studio Pro around the same time as JWildfire. It is free. However, it didn't come with features that I thought a "pro" version of software should when I first got it. The latest version is somewhat better in that regard, but Daz still nickel dimes you for some features that, IMO, should be included. I like it overall. The interface is pretty intuitive. I've enjoyed making 3D characters with it. All of the programs listed above, except Artsong, are free! I put my heart into all of my work. For me, it's quality before quantity. All of the fractal art you see here was done completely from scratch. I hope you enjoy it. David Lazarus joined Society6 on September 24, 2014
More
I've always had a creative side. The challenge was finding a way to express it. Drawing or painting by hand is not something I was ever good at doing. I used to draw stuff and create simple graphics on the Commodore 64 in the 80's. Then, I stumbled upon FractInt for DOS in the late 80's. It was interesting, but pretty limited. So, it didn't hold my interest very long. I got into photo editing in the early to mid 90's.
In 1997, I discovered a great fractal rendering app called Iterations written by Stephen C Ferguson. Iterations had outstanding capabilities for its time. Lots of equations to choose from, filters, gradients, and plenty of parameters to adjust too. You could even enter your own custom equations. Though some of the links are broken, you can still view some of the art I did using Iterations at my Geocities archive.
I also discovered an interesting program called Artsong written by David Strohbeen. Artsong could generate music from fractals through an algorithm that converted colors to notes. I beta tested an early version of the program. However, it uses a completely different engine now than it did back in the late 90's. I still have a few fractal songs . . . .somewhere.
After a bit of a hiatus, I discovered a program called Chaoscope that uses strange attractors to create many types of fractals. It's a bit more limited than Iterations, but Chaoscope is still a cool program.
Then, I discovered a whole new realm a couple of years later. Fractal landscapes. I downloaded and played around with a program called Terragen. It was still in beta phase at the time and I was using version 0.9.x. It was pretty cool. However, once I learned the ropes, I found it a bit limiting because it wasn't able to produce trees and other types of vegetation. Then, Planetside Software went from the free beta version to an expensive version 2; skipping right over version 1. A trial of version 2 was available. However, they completely changed the interface which made things significantly more complicated. So, that was the end of using Terragen for landscape rendering.
Next, in 2013, I discovered one of the most versatile, prolific fractal rendering apps out there: JWildfire by Andreas Maschke. JWildfire was amazing as a beta. Currently at version 1.9 (latest non-alpha/beta), it has become absolutely incredible! At inception, JWildfire was based on Apophysis. However, the interface was much better and the current capabilities far outdo Apophysis and it still has a friendlier interface.
I discovered a cool 3D character modeling app called Daz Studio Pro around the same time as JWildfire. It is free. However, it didn't come with features that I thought a "pro" version of software should when I first got it. The latest version is somewhat better in that regard, but Daz still nickel dimes you for some features that, IMO, should be included. I like it overall. The interface is pretty intuitive. I've enjoyed making 3D characters with it.
All of the programs listed above, except Artsong, are free!
I put my heart into all of my work. For me, it's quality before quantity. All of the fractal art you see here was done completely from scratch. I hope you enjoy it.
David Lazarus joined Society6 on September 24, 2014.