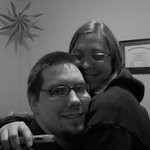 A&E Davidson
Adam teaches high school engineering classes with an emphasis on engineering design. He is an avid art enthusiast, the main artist on this account, and is married to an artist and graphic designer, Erin. Erin spends her time working from home and volunteering at Adam's school. She is the true artist in the family and has an extensive background and education in visual arts. She contributes some pieces but mostly oversees the creation process of the art they make together. The two of them spend a lot of their time creating/seeking new pieces of art and discussing the ramifications of mixing art and STEM. They are fans of all types of art but Adam has a propensity for dabbling in digital media, marker and pencil drawings of varying styles, along with model making and 3D rendering and printing. Erin is old school and enjoys painting, mixed media, general graphic design genres, and strays away from sculpture. Both are former ballet dancers and love the performing arts just as much as the visual arts. They thoroughly enjoy working with their hands and remodeling their home. They also love their pets and creating cat trees for their feline friends. Erin frequently volunteers at Adam's school and has helped Adam and his colleagues create North Carolina's #1 high school engineering program. If you purchase any products from their page you should know that 10% of their profits are donated to the engineering parent action council at Adam's school. This will benefit students in Adam's engineering program as well as help fund social events this organization puts on annually. We hope you enjoy our work and find something you like enough to purchase! A&E Davidson joined Society6 on July 12, 2016
More
Adam teaches high school engineering classes with an emphasis on engineering design. He is an avid art enthusiast, the main artist on this account, and is married to an artist and graphic designer, Erin.
Erin spends her time working from home and volunteering at Adam's school. She is the true artist in the family and has an extensive background and education in visual arts. She contributes some pieces but mostly oversees the creation process of the art they make together.
The two of them spend a lot of their time creating/seeking new pieces of art and discussing the ramifications of mixing art and STEM. They are fans of all types of art but Adam has a propensity for dabbling in digital media, marker and pencil drawings of varying styles, along with model making and 3D rendering and printing. Erin is old school and enjoys painting, mixed media, general graphic design genres, and strays away from sculpture.
Both are former ballet dancers and love the performing arts just as much as the visual arts. They thoroughly enjoy working with their hands and remodeling their home. They also love their pets and creating cat trees for their feline friends. Erin frequently volunteers at Adam's school and has helped Adam and his colleagues create North Carolina's #1 high school engineering program.
If you purchase any products from their page you should know that 10% of their profits are donated to the engineering parent action council at Adam's school. This will benefit students in Adam's engineering program as well as help fund social events this organization puts on annually.
We hope you enjoy our work and find something you like enough to purchase!
A&E Davidson joined Society6 on July 12, 2016.