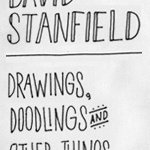 David Stanfield
Hi. I'm David. There are lots of fun things that come with being alive. I like to sit down and draw some of them from time to time, usually in the form of mountains, clouds, monsters, or wavy things. I hope you enjoy my shop! You can check out more of my work here: http://davidstanfieldis.me David Stanfield joined Society6 on August 23, 2011
More
Hi. I'm David. There are lots of fun things that come with being alive. I like to sit down and draw some of them from time to time, usually in the form of mountains, clouds, monsters, or wavy things. I hope you enjoy my shop!
You can check out more of my work here: http://davidstanfieldis.me
David Stanfield joined Society6 on August 23, 2011.