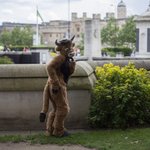 David Vaaknin
Portfolio Website: http://www.dvphotonet.com Facebook Page: https://www.facebook.com/DavidVaakninPhotography tumblr: http://davidvaaknin.tumblr.com/ David Vaaknin (b. 1979) is an Israeli freelance editorial photographer, specializing in news, portraits, sports and travel photography. He is currently based in Jerusalem where he lives with his wife, Natalie. David took up photography in 2002, while traveling across the U.S. and Latin America. He began his professional career in 2006, and has been working for the Israeli daily newspaper 'Israel Hayom' since 2007. His work has appeared in a variety of publications worldwide including: The New York Times, The Los Angeles Times, The Washington Post, Seattle Times, The Denver Post, Chicago Tribune, International Herald Tribune, Bloomberg, MSNBC, The Huffington Post, Esquire, Monocle, Ernst & Young Exceptional Magazine, The Guardian, The Telegraph, Die Zeit, Le Parisien. David Vaaknin joined Society6 on March 31, 2013
More
Portfolio Website: http://www.dvphotonet.com Facebook Page: https://www.facebook.com/DavidVaakninPhotography tumblr: http://davidvaaknin.tumblr.com/
David Vaaknin (b. 1979) is an Israeli freelance editorial photographer, specializing in news, portraits, sports and travel photography. He is currently based in Jerusalem where he lives with his wife, Natalie.
David took up photography in 2002, while traveling across the U.S. and Latin America. He began his professional career in 2006, and has been working for the Israeli daily newspaper 'Israel Hayom' since 2007.
His work has appeared in a variety of publications worldwide including: The New York Times, The Los Angeles Times, The Washington Post, Seattle Times, The Denver Post, Chicago Tribune, International Herald Tribune, Bloomberg, MSNBC, The Huffington Post, Esquire, Monocle, Ernst & Young Exceptional Magazine, The Guardian, The Telegraph, Die Zeit, Le Parisien.
David Vaaknin joined Society6 on March 31, 2013.
David Vaaknin's Store
49 results
Filter