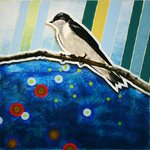 davina pallone
a dance of science and culture,
nature and domesticity,
technology and mythology,
comfort and conflict:
the smallest of particles
and the size of the universe
merge into one dream
of beauty, color, tension,
pattern, balance and surprise.

born in michigan, i was raised in a military family that made its home throughout the u.s., europe and in egypt. after studying engineering and communications in the upper peninsula of michigan, i moved to utah where i studied painting, weaving and intermedia sculpture. i made st. croix, usvi my home in 2010.
regardless of medium, my artwork distills a background in physics, design and travel to explore the sacred and scientific in the natural world. a web developer by trade, i have also built modern wood furniture and owned a contemporary art gallery in downtown salt lake city.
i am available for commissions! see more work at www.davinapallone.com.
Read more
davina pallone's Store
Filter