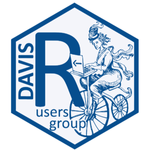 DavisRUsersGroup
We are the Davis R Users Group! A collection of scrappy graduate students using R to solve all our problems. Well, most of them. All proceeds from our sales go to a charity fund for Data Carpentry (a non-profit organization) to hold workshops in underserved regions. We also aspire to someday be able to afford our own mugs to give as thank-you gifts for our guest speakers :) For more info: d-rug.github.io DavisRUsersGroup joined Society6 on November 1, 2016
More
We are the Davis R Users Group! A collection of scrappy graduate students using R to solve all our problems. Well, most of them.
All proceeds from our sales go to a charity fund for Data Carpentry (a non-profit organization) to hold workshops in underserved regions. We also aspire to someday be able to afford our own mugs to give as thank-you gifts for our guest speakers :)
For more info: d-rug.github.io
DavisRUsersGroup joined Society6 on November 1, 2016.