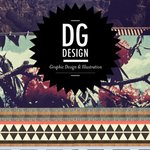 Dawn Gardner
A Graphic Designer & Illustrator who specializes in Print Based Design & Digital Illustration, with a keen interest in Collage and Book Making. More of my work can also be seen at: http://dawngardnerdesign.com Feel free to contact me via email - dawngardner_3@hotmail.com. Dawn Gardner joined Society6 on June 29, 2011
More
A Graphic Designer & Illustrator who specializes in Print Based Design & Digital Illustration, with a keen interest in Collage and Book Making.
More of my work can also be seen at:
http://dawngardnerdesign.com
Feel free to contact me via email - dawngardner_3@hotmail.com.
Dawn Gardner joined Society6 on June 29, 2011.