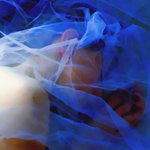 DaxyCash
My favourite thing is to find beauty in the everyday and the unexpected, in the hope it will bring enjoyment to others too. I take inspiration from almost anything, guided by my love of transience and imperfection, as enshrined in the Japanese principle Wabi Sabi. I'd probably sum up my style as 'Dark Night of the Soul meets Sparkly Trash & Trinkets'. DaxyCash joined Society6 on February 21, 2016
More
My favourite thing is to find beauty in the everyday and the unexpected, in the hope it will bring enjoyment to others too. I take inspiration from almost anything, guided by my love of transience and imperfection, as enshrined in the Japanese principle Wabi Sabi.
I'd probably sum up my style as 'Dark Night of the Soul meets Sparkly Trash & Trinkets'.
DaxyCash joined Society6 on February 21, 2016.