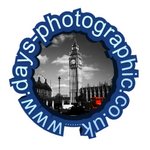 days-photographic
Originally from London's East End I now live in Hillingdon West London. By day (and evenings) I am a driving instructor, but at all times I am a very keen amateur photographer and always have some form of camera with me. I hope you enjoy the images in my portfolio. PLEASE NOTE: I do NOT give permission for any of my photos to be PINNED to PINTEREST, nor do I give permission for my COPYRIGHT to be infringed in any way, and will use whatever means required to recover losses incurred! days-photographic joined Society6 on April 24, 2012
More
Originally from London's East End I now live in Hillingdon West London.
By day (and evenings) I am a driving instructor, but at all times I am a very keen amateur photographer and always have some form of camera with me.
I hope you enjoy the images in my portfolio.
PLEASE NOTE: I do NOT give permission for any of my photos to be PINNED to PINTEREST, nor do I give permission for my COPYRIGHT to be infringed in any way, and will use whatever means required to recover losses incurred!
days-photographic joined Society6 on April 24, 2012.
Canvas by days-photographic
22 results
Filter