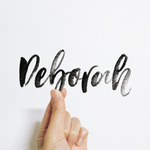 Deborah Tseng Studio
Deborah Tseng is a brush letterer and watercolor enthusiast. Her work reflects her restless and on-going state of mind with her delicate brush strokes and vibrant use of colors. When she's not busy creating and connecting, you can find her snuggling with her favorite human or kissing her cat. You can also see more of her work + behind the scenes here on http://www.instagram.com/dddtseng Deborah Tseng Studio joined Society6 on May 10, 2016
More
Deborah Tseng is a brush letterer and watercolor enthusiast. Her work reflects her restless and on-going state of mind with her delicate brush strokes and vibrant use of colors.
When she's not busy creating and connecting, you can find her snuggling with her favorite human or kissing her cat. You can also see more of her work + behind the scenes here on http://www.instagram.com/dddtseng
Deborah Tseng Studio joined Society6 on May 10, 2016.