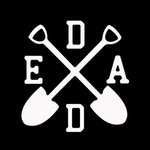 DeadBuryDead
DeadBuryDead is a lifestyle brand for the living. For barflies and wallflowers and outlaws and astronauts and hustlers and lumberjacks and poets and barbarians and sleepwalkers. And for people without labels. Without limits. Do what you do, and do so in style and comfort. DeadBuryDead is clothing for the soul. A stark reminder. Every day. That life is a gift. And as moments pass, they are dead and buried. Have the best day of your life. Today. DeadBuryDead joined Society6 on February 21, 2013
More
DeadBuryDead is a lifestyle brand for the living. For barflies and wallflowers and outlaws and astronauts and hustlers and lumberjacks and poets and barbarians and sleepwalkers. And for people without labels. Without limits.
Do what you do, and do so in style and comfort. DeadBuryDead is clothing for the soul. A stark reminder. Every day. That life is a gift. And as moments pass, they are dead and buried. Have the best day of your life. Today.
DeadBuryDead joined Society6 on February 21, 2013.