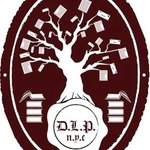 Dead Letters Press NYC
DLP NYC is an independent publisher of books, art, and, well, whatever, really. With the successful release of our first book, Sarah Faire and the House at the End of the World, please have a look at some of the wonderful art from the story, drawn by the amazingly talented Abigail Larson. Visit us at http://www.sarahfaire.com/ Dead Letters Press NYC joined Society6 on June 30, 2012
More
DLP NYC is an independent publisher of books, art, and, well, whatever, really. With the successful release of our first book, Sarah Faire and the House at the End of the World, please have a look at some of the wonderful art from the story, drawn by the amazingly talented Abigail Larson.
Visit us at http://www.sarahfaire.com/
Dead Letters Press NYC joined Society6 on June 30, 2012.
Dead Letters Press NYC's Store
52 results
Filter