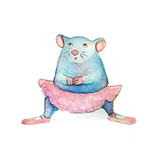 Dead Rats in my Freezer
Hello, I'm the artist of Dead Rats in my Freezer. Yes, I have dead rats in my freezer. I have a very cute corn snake. Here you will fine archival-quality prints of my traditional illustrations and digital paintings inspired by my dreams to distant places, books and pets, and my childhood memories. Dead Rats in my Freezer joined Society6 on October 26, 2015
More
Hello, I'm the artist of Dead Rats in my Freezer. Yes, I have dead rats in my freezer. I have a very cute corn snake.
Here you will fine archival-quality prints of my traditional illustrations and digital paintings inspired by my dreams to distant places, books and pets, and my childhood memories.
Dead Rats in my Freezer joined Society6 on October 26, 2015.
Dead Rats in my Freezer's Store
98 results
Filter