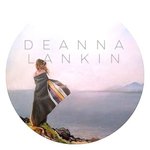 deannalankin
There is a very specific moment that I constantly seek. It happens most often when I'm alone, usually in nature. I've found it easily while surfing. It's in-ignorable when I'm sitting under an old growth cedar or standing on an empty shore. It's more subtle but no less powerful when I pause during my day to watch my daughter playing quietly by herself. It's always humbling and it's hard for me to describes. As an artist I'll never stop trying to capture it. Deanna Lankin is a professional artist living in TOFINO, Canada. DEANNALANKIN.COM instagram @deannalankin www.facebook.com/deannalankin/ deannalankin joined Society6 on June 8, 2016
More
There is a very specific moment that I constantly seek. It happens most often when I'm alone, usually in nature. I've found it easily while surfing. It's in-ignorable when I'm sitting under an old growth cedar or standing on an empty shore. It's more subtle but no less powerful when I pause during my day to watch my daughter playing quietly by herself. It's always humbling and it's hard for me to describes. As an artist I'll never stop trying to capture it.
Deanna Lankin is a professional artist living in TOFINO, Canada.
DEANNALANKIN.COM
instagram @deannalankin
www.facebook.com/deannalankin/
deannalankin joined Society6 on June 8, 2016.