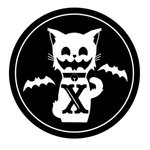 Bat Kittenx ♡
Hello my fellow batcats, ghosts, and ghouls! I'm Alicia, owner of BatKittenx Art and 23 year old self-taught artist, living in the hellish heat of Arizona. I'm wife to my lovely husband, mummy to a little pumpkin, and catmummy to two adorable felines. Lover of all things unusual, creepy, and cute! After many years of debate, I finally started this store in order to do what I love best and also to create items I've always wanted that could never find online. I want to share those items I've spent countless hours in creating with those with the same interests as I. New items are always being added. For everyday is Halloween and we can look cute while staying true to our inner creep! Follow on Instagram (use hashtag #BatKittenxArt to show off your stuff and a chance to be featured) & Twitter @BatKittenx for news, promos, discount codes and more! xx Bat Kittenx ♡ joined Society6 on November 12, 2013
More
Hello my fellow batcats, ghosts, and ghouls! I'm Alicia, owner of BatKittenx Art and 23 year old self-taught artist, living in the hellish heat of Arizona. I'm wife to my lovely husband, mummy to a little pumpkin, and catmummy to two adorable felines. Lover of all things unusual, creepy, and cute!
After many years of debate, I finally started this store in order to do what I love best and also to create items I've always wanted that could never find online. I want to share those items I've spent countless hours in creating with those with the same interests as I. New items are always being added. For everyday is Halloween and we can look cute while staying true to our inner creep!
Follow on Instagram (use hashtag #BatKittenxArt to show off your stuff and a chance to be featured) & Twitter @BatKittenx for news, promos, discount codes and more! xx
Bat Kittenx ♡ joined Society6 on November 12, 2013.