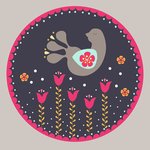 Kathrin Legg
Born in Germany and raised in Australia, Kathrin Legg is no stranger to foreign lands. But what makes her so unparalleled is her ability to imagine new places and ideas. Kathrin is a brilliant force of creativity and storytelling. I am a trained visual art high school teacher so I am very passionate about teaching art to children and the importance of using both their left and right side of the brain to develop critical thinking skills, problem solving, language and vocabulary skills. For children as young as toddlers, exploring the world around them through play and art shows them that learning is fun, and builds their communication, social, emotional, and fine motor skills. The benefits of surrounding kids with beautiful art is that it inspires them and encourages creative thinking. I tend to love using a lot of colour, for me, it makes the artwork happy and uplifting and something children are drawn to and inspired by. Website - www.dearelise.com.au Instagram - https://www.instagram.com/kathrin_legg/ Facebook - https://www.facebook.com/Kathrin-Legg-Dear-Elise-1415386325362398/timeline/ Twitter - @KathrinLegg ©Kathrin Legg All rights reserved worldwide. All images are protected by copyright law and may not be copied, downloaded or used without permission Kathrin Legg joined Society6 on November 3, 2013
More
Born in Germany and raised in Australia, Kathrin Legg is no stranger to foreign lands. But what makes her so unparalleled is her ability to imagine new places and ideas. Kathrin is a brilliant force of creativity and storytelling.
I am a trained visual art high school teacher so I am very passionate about teaching art to children and the importance of using both their left and right side of the brain to develop critical thinking skills, problem solving, language and vocabulary skills. For children as young as toddlers, exploring the world around them through play and art shows them that learning is fun, and builds their communication, social, emotional, and fine motor skills. The benefits of surrounding kids with beautiful art is that it inspires them and encourages creative thinking.
I tend to love using a lot of colour, for me, it makes the artwork happy and uplifting and something children are drawn to and inspired by.
Website - www.dearelise.com.au
Instagram - https://www.instagram.com/kathrin_legg/
Facebook - https://www.facebook.com/Kathrin-Legg-Dear-Elise-1415386325362398/timeline/
Twitter - @KathrinLegg
©Kathrin Legg All rights reserved worldwide. All images are protected by copyright law and may not be copied, downloaded or used without permission
Kathrin Legg joined Society6 on November 3, 2013.