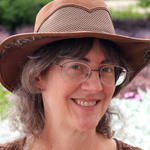 Debi Dalio
Debi Dalio, a photographer and artist based in Fort Worth, Texas, enjoys shooting animals and plants (in a nice way) and processing her photos artistically. She also enjoys creating original digital artwork. Her images are generally colorful and sometimes whimsical. Her desire is to bring joy to the viewer. You can find her at various sites online: Studio Dalio (bit.ly/StudioDalioHomeDecor) ~ Facebook (https://www.facebook.com/StudioDalio/) ~ Instagram (@debi.dalio) ~ Pinterest (http://www.pinterest.com/DebiDalio/) ~ Debi Dalio joined Society6 on February 7, 2014
More
Debi Dalio, a photographer and artist based in Fort Worth, Texas, enjoys shooting animals and plants (in a nice way) and processing her photos artistically. She also enjoys creating original digital artwork. Her images are generally colorful and sometimes whimsical. Her desire is to bring joy to the viewer.
You can find her at various sites online:
Studio Dalio (bit.ly/StudioDalioHomeDecor) ~
Facebook (https://www.facebook.com/StudioDalio/) ~
Instagram (@debi.dalio) ~
Pinterest (http://www.pinterest.com/DebiDalio/) ~
Debi Dalio joined Society6 on February 7, 2014.
Coasters by Debi Dalio
65 results
Filter