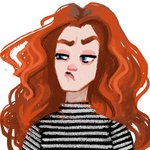 Decoma
Hello! I'm D. I'm an illustrator living near Sydney, Australia. If you would like to get in touch feel free to send me an email, I would love to hear from you! deannahewittillustration [at] gmail [dot] com Find me elsewhere: Portfolio: deannahewitt.com Instagram: instagram.com/decoma_ Twitter: twitter.com/decoma_ Tumblr: decoma.tumblr.com Decoma joined Society6 on March 23, 2014
More
Hello! I'm D. I'm an illustrator living near Sydney, Australia.
If you would like to get in touch feel free to send me an email, I would love to hear from you! deannahewittillustration [at] gmail [dot] com
Find me elsewhere: Portfolio: deannahewitt.com Instagram: instagram.com/decoma_ Twitter: twitter.com/decoma_ Tumblr: decoma.tumblr.com
Decoma joined Society6 on March 23, 2014.