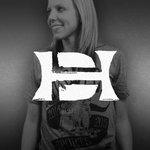 Deidre Hayden
The skinny: Lover of typography, hand lettering, watercolor, and cake donuts. The not so skinny: For the last 5 years I've been working as a production artist and now designer for a Nike collegiate apparel licensee. While I enjoy my job relating to Nike, I had to start using my hands and creating an outlet for myself outside of my day job. Since starting my career I have been freelancing and doing commissioned pieces. I love watercolor, hand lettering, and illustration and try to incorporate all of those in my work. Deidre Hayden joined Society6 on October 22, 2014
More
The skinny: Lover of typography, hand lettering, watercolor, and cake donuts.
The not so skinny: For the last 5 years I've been working as a production artist and now designer for a Nike collegiate apparel licensee. While I enjoy my job relating to Nike, I had to start using my hands and creating an outlet for myself outside of my day job. Since starting my career I have been freelancing and doing commissioned pieces. I love watercolor, hand lettering, and illustration and try to incorporate all of those in my work.
Deidre Hayden joined Society6 on October 22, 2014.