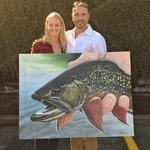 Shauna Jasken
Canadian Artist, Vancouver Island, Port Alberni BC Artist creating bold west coast fish illustrations. Specializing in acrylic on canvas. When Shauna'im not in the studio,bot working in a fishing shop, she is likely to being a photographer, gardener or enjoying her passion of salmon fishing. Thank you for visiting my page where you'll find art for you or the angler in your life. For those who appreciate angling. "Creating Art Out Of Life" I'm so blessed to have this opportunity and owe all the thanks to you for supporting my work- Thank You! Shauna Jasken joined Society6 on October 26, 2016
More
Canadian Artist, Vancouver Island, Port Alberni BC Artist creating bold west coast fish illustrations. Specializing in acrylic on canvas. When Shauna'im not in the studio,bot working in a fishing shop, she is likely to being a photographer, gardener or enjoying her passion of salmon fishing.
Thank you for visiting my page where you'll find art for you or the angler in your life. For those who appreciate angling.
"Creating Art Out Of Life" I'm so blessed to have this opportunity and owe all the thanks to you for supporting my work- Thank You!
Shauna Jasken joined Society6 on October 26, 2016.