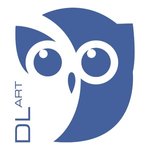 deianaluca
Sketches, drafts, and comics! ...imagine being able to draw your ideas...to see beyond what we see normally...fly with your imagination, draw, and share tips and ideas to get you can then translate into comics...fantasy and color...welcome on my society6 page! Follow me: - www.designbyhumans.com/shop/de… - deianaluca.it/category/drawing… - deianaluca.deviantart.com/ - deianalucaart.blogspot.it/ - www.deianaluca.it/ deianaluca joined Society6 on June 24, 2014
More
Sketches, drafts, and comics! ...imagine being able to draw your ideas...to see beyond what we see normally...fly with your imagination, draw, and share tips and ideas to get you can then translate into comics...fantasy and color...welcome on my society6 page!
Follow me:
www.designbyhumans.com/shop/de…
deianaluca.it/category/drawing…
deianaluca.deviantart.com/
deianalucaart.blogspot.it/
www.deianaluca.it/
deianaluca joined Society6 on June 24, 2014.