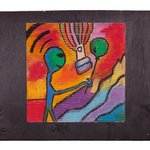 DelusionalDiva
Sky Palkowitz lives and breathes ART. She's obsessed with the images of ALIENS, and most of her work deals with extraterrestrial visions, pyramids, spacecrafts, and elephants. Her huge body of work can be found all over the HARVARD HIVE ALIEN ART MUSEUM, ANIMAL QUEENDOM, AND CRYSTAL EARTH CREATION STATION GALLERY/STUDIO/WORKSPACE AND PERFORMANCE PLACE, located just below Hollywood near Western and Melrose. Sky schedules viewings and sightings at "THE HIVE" by appointment only. "Art is for sale. Animals and crystals are not." To check out Sky's art, call 323.665.9993 For more info and Gallery Viewing online go to www.DelusionalDiva.com/galleries/visual-art DelusionalDiva joined Society6 on August 6, 2014
More
Sky Palkowitz lives and breathes ART. She's obsessed with the images of ALIENS, and most of her work deals with extraterrestrial visions, pyramids, spacecrafts, and elephants. Her huge body of work can be found all over the HARVARD HIVE ALIEN ART MUSEUM, ANIMAL QUEENDOM, AND CRYSTAL EARTH CREATION STATION GALLERY/STUDIO/WORKSPACE AND PERFORMANCE PLACE, located just below Hollywood near Western and Melrose.
Sky schedules viewings and sightings at "THE HIVE" by appointment only.
"Art is for sale. Animals and crystals are not."
To check out Sky's art, call 323.665.9993
For more info and Gallery Viewing online go to www.DelusionalDiva.com/galleries/visual-art
DelusionalDiva joined Society6 on August 6, 2014.