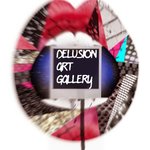 delusionARTgallery
A CREATIVE SPACE BETWEEN DELUSION AND REALITY.. de·lu·sion dəˈlo͞oZHən/ noun the act of deluding : the state of being deluded delusion implies an inability to distinguish between what is real and what only seems to be real. art ärt/ noun the quality, production, expression, or realm, according to aesthetic principles, of what is beautiful, appealing, or of more than ordinary significance. "What a capacity ART has for DELUSION." Doing what I love! Visit my website at http://www.delusionartgallery.com and please email me with any questions, custom orders, or licensing inquiries at delusionartgallery@gmail.com. delusionARTgallery joined Society6 on January 5, 2015
More
A CREATIVE SPACE BETWEEN DELUSION AND REALITY..
de·lu·sion dəˈlo͞oZHən/ noun the act of deluding : the state of being deluded delusion implies an inability to distinguish between what is real and what only seems to be real.
art ärt/ noun the quality, production, expression, or realm, according to aesthetic principles, of what is beautiful, appealing, or of more than ordinary significance.
"What a capacity ART has for DELUSION."
Doing what I love! Visit my website at http://www.delusionartgallery.com and please email me with any questions, custom orders, or licensing inquiries at delusionartgallery@gmail.com.
delusionARTgallery joined Society6 on January 5, 2015.