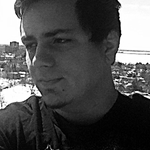 DerekRestivo
Welcome! I'm a 24-year-old illustrator who was born and raised in the Ottawa/Gatineau area of Canada. After receiving a BSc in Environment and working in a small office for a couple years, I decided to switch gears and devote myself to what has always been my true passion: art. Due to a lifelong interest in science fiction, fantasy, and horror, my collections of video games, books, comics, movies and music are larger than I'd care to admit. The benefit of that geekdom is that if there's an artist, style or series that you're interested in, I've probably heard of it and I can help you cultivate your ideas into full-fledged illustrations. I'm also a metalhead and death metal collector, which meshes well with my love of painting twisted landscapes and cosmic horror. If you're interested in hiring my services, you can contact me at derekrestivo.com/contact. Derek DerekRestivo joined Society6 on April 4, 2014
More
Welcome!
I'm a 24-year-old illustrator who was born and raised in the Ottawa/Gatineau area of Canada. After receiving a BSc in Environment and working in a small office for a couple years, I decided to switch gears and devote myself to what has always been my true passion: art. Due to a lifelong interest in science fiction, fantasy, and horror, my collections of video games, books, comics, movies and music are larger than I'd care to admit. The benefit of that geekdom is that if there's an artist, style or series that you're interested in, I've probably heard of it and I can help you cultivate your ideas into full-fledged illustrations. I'm also a metalhead and death metal collector, which meshes well with my love of painting twisted landscapes and cosmic horror.
If you're interested in hiring my services, you can contact me at derekrestivo.com/contact.
Derek
DerekRestivo joined Society6 on April 4, 2014.
DerekRestivo's Store
15 results
Filter