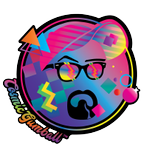 Cosmic Gumball by DerFunkNoid
Did you ever take psychedelics in the 70s? if not, then let's travel back to a time, where blacklight posters ruled dorm room walls, when colors, graphics and ideas were bold. Dive into my mind where designs of the past are reimagined. ​ Cosmic Gumball is where all these thoughts, ideas and inspiration culminates into one.
​Be one with the gumball and let the gumball be one with you. But above all else, Be More Cosmic.
Read more