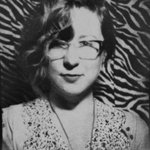 Deserts and Lakes
I was born in Oak Creek, Wisconsin, between the cornfields and coyotes. I was raised to love animals and friends, walking and cooking, baking and eating, suspense and surprises. Problem solving is one of my greatest joys. Everything I do in life and art is based on a desire for contact with people I know, and people I'm meant to meet. I strive to maintain these connections over distance and extend the common experiences that keep us together. I take pictures every day toward a never-ending visual archive of experience. More of my work can be seen at http://jenniferbastian.com and http://desertsandlakes.com. Deserts and Lakes joined Society6 on December 1, 2015
More
I was born in Oak Creek, Wisconsin, between the cornfields and coyotes. I was raised to love animals and friends, walking and cooking, baking and eating, suspense and surprises. Problem solving is one of my greatest joys.
Everything I do in life and art is based on a desire for contact with people I know, and people I'm meant to meet. I strive to maintain these connections over distance and extend the common experiences that keep us together. I take pictures every day toward a never-ending visual archive of experience.
More of my work can be seen at http://jenniferbastian.com and http://desertsandlakes.com.
Deserts and Lakes joined Society6 on December 1, 2015.
Deserts and Lakes's Store
18 results
Filter