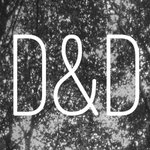 design and devices
Design & Devices make graphic prints and wall art for the modern home and anyone interested in interior designs. All with a Scandinavian twist. Any material or images that are not our own, are found online and used under the following guidelines: http://creativecommons.org/licenses/ http://commons.wikimedia.org/wiki/Main_Page If you are the copyright owner of any material being used and would like it removed, please contact us at designanddevices@gmail.com design and devices joined Society6 on August 27, 2014
More
Design & Devices make graphic prints and wall art for the modern home and anyone interested in interior designs. All with a Scandinavian twist.
Any material or images that are not our own, are found online and used under the following guidelines:
http://creativecommons.org/licenses/ http://commons.wikimedia.org/wiki/Main_Page
If you are the copyright owner of any material being used and would like it removed, please contact us at designanddevices@gmail.com
design and devices joined Society6 on August 27, 2014.