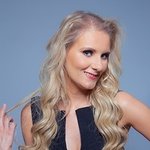 Designer by Heart
Nina Hansen is a Danish graphic designer and illustrator. Her preferred medium is digital art. Nina's illustrations are colorful and happy, and her style is minimalistic with bright or pastel colors. She draws a lot of her inspiration from the sea life, ocean animals, and from nature. She is also available for custom design projects. www.designerbyheart.com info@designerbyheart.com Instagram: @designerbyheart Designer by Heart joined Society6 on June 22, 2017
More
Nina Hansen is a Danish graphic designer and illustrator. Her preferred medium is digital art. Nina's illustrations are colorful and happy, and her style is minimalistic with bright or pastel colors. She draws a lot of her inspiration from the sea life, ocean animals, and from nature.
She is also available for custom design projects.
www.designerbyheart.com info@designerbyheart.com Instagram: @designerbyheart
Designer by Heart joined Society6 on June 22, 2017.