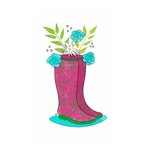 Designs By Misty Blue (Misty Lemons)
Hello! I'm Misty Lemons, An Artist And Mom From North Texas. From An Early Age My Parents Realized That I Was Artistic. From Drawing On My Bedroom Wall To Giving My Barbie Dolls Fabulously Imaginative Makeovers, They Knew That I Was An Artistic Force To Be Reckoned With! So, Go Figure My Style Is Sassy And Fun! I Had My Own Photography Business For Almost 10 Years And Then I Became Very Ill. I Overcame Thyroid Cancer. My Dream & Goal Is To Have My Work Licensed! To Inquire About Licensing, Please Email Me At lovemistyblue@gmail.com My Web Site Has Lots Of Cool Inside Info On My Drawings And More! http://designsbymistyblue.wix.com/mistylemons I'm On Instagram! https://instagram.com/designsbymistyblue/ And Facebook! www.facebook.com/designsbymistyblue You Can Also Shop My Redbubble Store - http://www.redbubble.com/people/mistylemons/ To See My Award Winning Holiday Hallmark Card, Please Visit - http://www.hallmarkcontests.com/page/WINNERS/sub/Gallery/Contest/yourHoliday/do/detail/cardID/10 You Can Also See My Winning Idea For An Awkward Yeti Comic (The Awkward Yeti Is Confronted With National Talk Like A Pirate Day) http://theawkwardyeti.com/?s=pirate Designs By Misty Blue (Artist - Misty Lemons) Original Art. ©Misty R. Lemons/Designs By Misty Blue Designs By Misty Blue (Misty Lemons) joined Society6 on April 2, 2014
More
Hello! I'm Misty Lemons, An Artist And Mom From North Texas. From An Early Age My Parents Realized That I Was Artistic. From Drawing On My Bedroom Wall To Giving My Barbie Dolls Fabulously Imaginative Makeovers, They Knew That I Was An Artistic Force To Be Reckoned With! So, Go Figure My Style Is Sassy And Fun!
I Had My Own Photography Business For Almost 10 Years And Then I Became Very Ill. I Overcame Thyroid Cancer. My Dream & Goal Is To Have My Work Licensed!
To Inquire About Licensing, Please Email Me At lovemistyblue@gmail.com
My Web Site Has Lots Of Cool Inside Info On My Drawings And More! http://designsbymistyblue.wix.com/mistylemons
I'm On Instagram! https://instagram.com/designsbymistyblue/
And Facebook! www.facebook.com/designsbymistyblue
You Can Also Shop My Redbubble Store - http://www.redbubble.com/people/mistylemons/
To See My Award Winning Holiday Hallmark Card, Please Visit - http://www.hallmarkcontests.com/page/WINNERS/sub/Gallery/Contest/yourHoliday/do/detail/cardID/10
You Can Also See My Winning Idea For An Awkward Yeti Comic (The Awkward Yeti Is Confronted With National Talk Like A Pirate Day) http://theawkwardyeti.com/?s=pirate
Designs By Misty Blue (Artist - Misty Lemons) Original Art. ©Misty R. Lemons/Designs By Misty Blue
Designs By Misty Blue (Misty Lemons) joined Society6 on April 2, 2014.