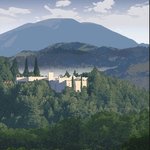 DesignworksNapa
Welcome to Designworks of the Napa Valley! How did we get here? In June of 2013, my job of 15 years evaporated almost over night due to political decisions and policy changes going on way above my pay grade. Rather than panic, I did some soul searching and decided that what I wanted most at this point in my life was to "make beautiful things that make people happy" ... and so Designworks of the Napa Valley was reborn.* The year and a half following my beautiful/happy decision provided one intense learning opportunity after another. I had always been an artist, even when I was doing other things to make a living, but art hadn't been my primary focus for many years. In that time there had been a lot of changes in the art world, many of them technological. I jumped in head first, signing up for classes in Photoshop, Adobe Illustrator, and InDesign. I renewed my acquaintance with silkscreen, etching, woodblock, and other printmaking techniques I hadn't tried in decades. I also knew nothing about running an online business or selling my products to retailers, so I hopped onto the Internet and started reading everything I could find. The learning curve has been steep and I've made my share of novice mistakes, but it certainly hasn't been boring! Where are we going? Moving forward, Designworks of the Napa Valley has one primary goal: Bringing you beautiful products that put a smile on your face. You'll find humor and whimsy from the wise, wine-loving cows of the Greener Pastures collection; an appreciation of tech* -- both modern and vintage -- in the Nerdtastic and Vintage Tech collections; and one-of-a-kind Custom Commemoratives that are fresh, fun, and embody that world famous Napa Valley style. But that's only the beginning. Make sure you come back to the website often, because we'll be adding new products all the time! How are we doing? Designworks of the Napa Valley is committed to bringing you a great online experience. You can out more about our products at: "designworksnapavalley.com" or "etsy.com/shop/DesignworksNapa". I'd also love to hear your feedback on Designworks' products. Or, if you have an idea for a product you think would be a great fit for Designworks, let me know at designworksnv@gmail.com. Thanks for taking your valuable time to check out the website! Julie Anne Irwin Scott Designworks of the Napa Valley Oh no, footnotes!! 1) Designworks of the Napa Valley had at one time, many years ago, been the name of my graphic design business. 2) "Wait," you ask, scratching your head, "What does tech have to do with the Napa Valley?" Where do you think all those Silicon Valley programmers spend their weekends? Wine tasting, of course! And trust me, it takes some pretty amazing tech, both ancient and modern, to make a bottle of wine. DesignworksNapa joined Society6 on July 30, 2014
More
Welcome to Designworks of the Napa Valley!
How did we get here?
   In June of 2013, my job of 15 years evaporated almost over night due to political decisions and policy changes going on way above my pay grade. Rather than panic, I did some soul searching and decided that what I wanted most at this point in my life was to "make beautiful things that make people happy" ... and so Designworks of the Napa Valley was reborn.*

   The year and a half following my beautiful/happy decision provided one intense learning opportunity after another. I had always been an artist, even when I was doing other things to make a living, but art hadn't been my primary focus for many years. In that time there had been a lot of changes in the art world, many of them technological. I jumped in head first, signing up for classes in Photoshop, Adobe Illustrator, and InDesign. I renewed my acquaintance with silkscreen, etching, woodblock, and other printmaking techniques I hadn't tried in decades. I also knew nothing about running an online business or selling my products to retailers, so I hopped onto the Internet and started reading everything I could find. The learning curve has been steep and I've made my share of novice mistakes, but it certainly hasn't been boring! 

Where are we going?
   Moving forward, Designworks of the Napa Valley has one primary goal: Bringing you beautiful products that put a smile on your face.  You'll find humor and whimsy from the wise, wine-loving cows of the Greener Pastures collection; an appreciation of tech* -- both modern and vintage -- in the Nerdtastic and Vintage Tech collections; and one-of-a-kind Custom Commemoratives that are fresh, fun, and embody that world famous Napa Valley style. But that's only the beginning. Make sure you come back to the website often, because we'll be adding new products all the time!

How are we doing?
   Designworks of the Napa Valley is committed to bringing you a great online experience. You can out more about our products at: "designworksnapavalley.com" or "etsy.com/shop/DesignworksNapa". I'd also love to hear your feedback on Designworks' products. Or, if you have an idea for a product you think would be a great fit for Designworks, let me know at designworksnv@gmail.com. 


  Thanks for taking your valuable time to check out the website!

  Julie Anne Irwin Scott
  Designworks of the Napa Valley

Oh no, footnotes!!
Designworks of the Napa Valley had at one time, many years ago, been the name of my graphic design business.
"Wait," you ask, scratching your head, "What does tech have to do with the Napa Valley?" Where do you think all those Silicon Valley programmers spend their weekends? Wine tasting, of course! And trust me, it takes some pretty amazing tech, both ancient and modern, to make a bottle of wine.
DesignworksNapa joined Society6 on July 30, 2014.