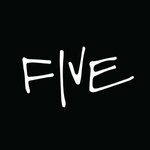 DESIGN X FIVE
Kristen Polsinelli, the face behind DX5, is a letterer, designer and illustrator that works with a mixture of digital and analogue techniques to create novel visuals with a bit of an edge. Her style is a juxtaposed world where black and white meets color and chaos flirts with simplicity. Kristen has worked on projects all over the world for hotels, restaurants, coffee shops, bars, technology, fashion, blogs, weddings and retail. DESIGN X FIVE joined Society6 on February 13, 2013
More
Kristen Polsinelli, the face behind DX5, is a letterer, designer and illustrator that works with a mixture of digital and analogue techniques to create novel visuals with a bit of an edge. Her style is a juxtaposed world where black and white meets color and chaos flirts with simplicity.
Kristen has worked on projects all over the world for hotels, restaurants, coffee shops, bars, technology, fashion, blogs, weddings and retail.
DESIGN X FIVE joined Society6 on February 13, 2013.
DESIGN X FIVE's Store
56 results
Filter