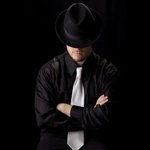 Deuscain
Daniel Meyer is a born and raised Pennsylvanian who currently resides in the Harrisburg area. He has been writing poetry since December of 2009 and has completed a 365 day poetry project, which he published locally, as well as several additional projects at the time of this publication: Month of Romance (Feb 2011), National Poetry Writing Month 2011 (Apr 2011), Story Time Saturday (Fall 2012), Shorties (2012-2014), and Blogging (2015). Daniel's published works include: A (Wise) Man of Two Faces Ever Since, and Evermore 2011: The Year I Was in Love 2012: The Year I Fell Apart 2013: The Year I Went in Circles 2014: The Year of Labours 2015: Rhyme 2015: Reason Deuscain joined Society6 on December 3, 2012
More
Daniel Meyer is a born and raised Pennsylvanian who currently resides in the Harrisburg area. He has been writing poetry since December of 2009 and has completed a 365 day poetry project, which he published locally, as well as several additional projects at the time of this publication: Month of Romance (Feb 2011), National Poetry Writing Month 2011 (Apr 2011), Story Time Saturday (Fall 2012), Shorties (2012-2014), and Blogging (2015).
Daniel's published works include: A (Wise) Man of Two Faces Ever Since, and Evermore 2011: The Year I Was in Love 2012: The Year I Fell Apart 2013: The Year I Went in Circles 2014: The Year of Labours 2015: Rhyme 2015: Reason
Deuscain joined Society6 on December 3, 2012.