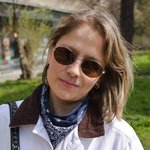 Deyana Deco
My name is Deyana and I'm an Artist and graduated Textile designer. Images you see here are of my original artworks. I work with oils, acrylics, watercolors or special textile dyes when I paint on silk or other fabrics, or very often create mixed media abstract works. I sell the original paintings via my website: Deyanadeco.com and on my Etsy and DaWanda shops (links below) so if you are interested in purchasing the original piece please get in touch. I am also available for private commissions. I ran an advertising agency for many years and currently co-work in Online marketing agency, mainly on logo, corporate and website designs, some of my projects are published on my website. You can contact me if you are interested in this aspect of my work. Thank you and enjoy browsing my Society6 profile! Hope you like my art and you may find a place in your home for a piece of it. I'll be happy if we connect on G+, Facebook, Twitter, Pinterest, Linkedin or Instagram, links to my profiles are below. Deyana Deco My Webiste: http://deyanadeco.com/ My ETSY shop: https://deyanadeco.etsy.com/ Follow me: https://www.google.com/+DeyanaDeco https://twitter.com/DeyanaDeco http://www.facebook.com/deyana.deco http://www.pinterest.com/deyanadeco/ http://es.linkedin.com/in/deyana http://instagram.com/deyanadeco/ Deyana Deco joined Society6 on March 2, 2015
More
My name is Deyana and I'm an Artist and graduated Textile designer. Images you see here are of my original artworks. I work with oils, acrylics, watercolors or special textile dyes when I paint on silk or other fabrics, or very often create mixed media abstract works. I sell the original paintings via my website: Deyanadeco.com and on my Etsy and DaWanda shops (links below) so if you are interested in purchasing the original piece please get in touch. I am also available for private commissions. I ran an advertising agency for many years and currently co-work in Online marketing agency, mainly on logo, corporate and website designs, some of my projects are published on my website. You can contact me if you are interested in this aspect of my work. Thank you and enjoy browsing my Society6 profile! Hope you like my art and you may find a place in your home for a piece of it. I'll be happy if we connect on G+, Facebook, Twitter, Pinterest, Linkedin or Instagram, links to my profiles are below.
Deyana Deco
My Webiste: http://deyanadeco.com/ My ETSY shop: https://deyanadeco.etsy.com/
Follow me: https://www.google.com/+DeyanaDeco https://twitter.com/DeyanaDeco http://www.facebook.com/deyana.deco http://www.pinterest.com/deyanadeco/ http://es.linkedin.com/in/deyana http://instagram.com/deyanadeco/
Deyana Deco joined Society6 on March 2, 2015.