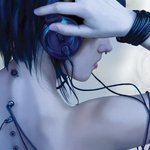 Diamante Murru
About Diamante Murru
I'm From Cagliari, Italy.
My drawings have more or less the same theme: the woman technologically advanced, which has some digital implants as an integral part of her body, to compensate for the shortcomings of the human body.
Having the technology as part of herself, she doesn't need to seek outside help. Aid more or less common, like hearing herself through a pair of headphones connected to the head. Or when we want, adjust the volume of the ears, or capture an image as if we had a camera lens in the eye.
The atmosphere a bit sad may be derived from the fact that there are things we can't replace with any technological system.
www.diamantemurru.com
https://www.facebook.com/diamante.art
Diamante Murru joined Society6 on August 26, 2011.