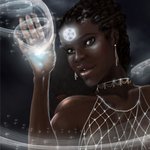 The Indigo Path
My name is DiAngele Augustus (but I go by DiAn) and I'm a queer artist and storyteller living in the desert southwest. I've been an artist for about 15 years, but all of my projects to date have been in traditional media. I've recently started to dabble in digital arts while making my webcomic Indigo: Sisters. I'm happy that I can share my art with you. I'm Gaius Augustus, a queer trans scientist & creative. I create designs to make science a beautiful and engaging part of your everyday life. I was trained as a fine artist and then as a scientist, and I am excited to be able to create items that blend these two worlds. The Indigo Path joined Society6 on July 2, 2017
More
My name is DiAngele Augustus (but I go by DiAn) and I'm a queer artist and storyteller living in the desert southwest. I've been an artist for about 15 years, but all of my projects to date have been in traditional media. I've recently started to dabble in digital arts while making my webcomic Indigo: Sisters. I'm happy that I can share my art with you.
I'm Gaius Augustus, a queer trans scientist & creative. I create designs to make science a beautiful and engaging part of your everyday life. I was trained as a fine artist and then as a scientist, and I am excited to be able to create items that blend these two worlds.
The Indigo Path joined Society6 on July 2, 2017.