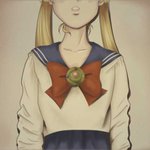 DiHA
I'm a part-time artist, part-time nurse, and full-time nerd girl hailing from the beautiful Rocky Mountains. I find inspiration in an assortment of geekery, and I love chocolate chip pancakes. Please join me on Facebook for updates on my arting, as well as other nerdy thoughts and activities. I love to hear feedback on my work, too! I apologize in advance if not all works are available in all products; Society6 adds new stuffs faster than I can keep up sometimes! If there's anything you want that you don't see, please let me know so I can add it. :) DiHA joined Society6 on January 20, 2013
More
I'm a part-time artist, part-time nurse, and full-time nerd girl hailing from the beautiful Rocky Mountains. I find inspiration in an assortment of geekery, and I love chocolate chip pancakes.
Please join me on Facebook for updates on my arting, as well as other nerdy thoughts and activities. I love to hear feedback on my work, too!
I apologize in advance if not all works are available in all products; Society6 adds new stuffs faster than I can keep up sometimes! If there's anything you want that you don't see, please let me know so I can add it. :)
DiHA joined Society6 on January 20, 2013.