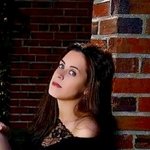 Amber D'Amato
Thank you for taking the time to explore my shop. I appreciate it! I am an NY artist. In my shop are my illustrations, watercolors, paintings, photographs and crafts. I love to draw portraits of women the most. I have been fascinated with a female's journey starting in my childhood with Alice in Wonderland. The movie Amelie is a big favorite because I adore vivid colors, especially color combinations: Turquoise and brown. Hot pink and lime green. I also love to focus on the diversity of beauty. All pictures posted are mine. So it is extra special when you heart my work. If you have a chance, please visit me on these social networks: Blog: http://dilettantedesigns.blogspot.com Tumblr: http://emberamber13.tumblr.com Facebook: https://www.facebook.com/pages/Dilettante-Designs/425299934209136 Instagram: http://instagram.com/emberamber Amber D'Amato joined Society6 on July 23, 2014
More
Thank you for taking the time to explore my shop. I appreciate it! I am an NY artist. In my shop are my illustrations, watercolors, paintings, photographs and crafts. I love to draw portraits of women the most. I have been fascinated with a female's journey starting in my childhood with Alice in Wonderland. The movie Amelie is a big favorite because I adore vivid colors, especially color combinations: Turquoise and brown. Hot pink and lime green. I also love to focus on the diversity of beauty.
All pictures posted are mine. So it is extra special when you heart my work. If you have a chance, please visit me on these social networks:
Blog: http://dilettantedesigns.blogspot.com Tumblr: http://emberamber13.tumblr.com Facebook: https://www.facebook.com/pages/Dilettante-Designs/425299934209136 Instagram: http://instagram.com/emberamber
Amber D'Amato joined Society6 on July 23, 2014.
Amber D'Amato's Store
35 results
Filter