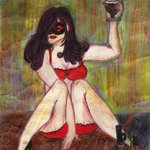 Dismantled Art by Jaime R. Haywood
Dismantled Art began as a way to let my feelings out, while struggling with depression. It was my daughter's art supplies that got me started and after not drawing for years, I found that art became like therapy to me. I found it to be very soothing, a creative outlet to deal with my anxiety, frustrations and "demons". I turned my emotions into a tool to create something I was actually proud of. Each piece is very personal to me, for my own reasons. They play a story in my head and while it may not be the same story that you see or feel, that's the beauty of it! Art...like music, connects with people in different ways for different reasons. My hope is that if you find a piece you like, you are able to connect with it in a special way. Thanks to my closest loved ones for helping me through my struggles, inspiring me with music, loving me wholly and believing in me. I love you, each so very much! ~Jaim Dismantled Art by Jaime R. Haywood joined Society6 on June 16, 2014
More
Dismantled Art began as a way to let my feelings out, while struggling with depression. It was my daughter's art supplies that got me started and after not drawing for years, I found that art became like therapy to me. I found it to be very soothing, a creative outlet to deal with my anxiety, frustrations and "demons". I turned my emotions into a tool to create something I was actually proud of.
Each piece is very personal to me, for my own reasons. They play a story in my head and while it may not be the same story that you see or feel, that's the beauty of it! Art...like music, connects with people in different ways for different reasons. My hope is that if you find a piece you like, you are able to connect with it in a special way.
Thanks to my closest loved ones for helping me through my struggles, inspiring me with music, loving me wholly and believing in me. I love you, each so very much!
~Jaim
Dismantled Art by Jaime R. Haywood joined Society6 on June 16, 2014.
Dismantled Art by Jaime R. Haywood's Store
65 results
Filter