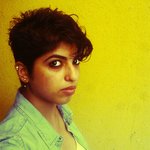 Divya Suvarna
Divya Suvarna, a random maniac, loves drawing, designing and appreciating art and photography. Is an avid music listener, so much that her headphones are often mistaken for her ears.
http://artofdivyasuvarna.com/
©copyright my images do not belong to the public domain. all images in this portfolio are owned and ©copyrighted by me. any reproduction, modification, publication, transmission, transfer, or exploitation of any of the content, for personal or commercial use, whether in whole or in part, without written permission from me is prohibited by law. all rights reserved.
Read more
Divya Suvarna's Store
Filter