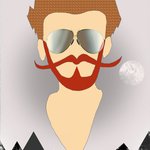 DM Davis
Instagram http://www.instagram.com/dmdavisart Redbubble http://www.redbubble.com/people/dmdavis Pinterest https://www.pinterest.com/dmdavisart Hello and thank you for stopping by. I'm very proud to be in the company of such talent here on Society6. Each creation on this site, so beautiful in its own unique way. I'm a digital artist, my pieces incorporate graphic design with my original photography from various travels and everyday life. My personal favorite creations walk the fine line between fantasy and reality. There's something about the abstract and surreal that challenge our own perceptions of what we know to be true. I feel its in that space where personal evolution can really prosper. Perhaps most special to me is the unique relationship between an artistic creation and the observer. It's rare any two people will see or feel the exact same thing with any given piece, and that is a beautiful thing. Each of my pieces has a story to tell - what they say, well, that's ultimately up to you. Thanks again for stopping by - and hope you enjoy :) -DM ________________________________________ Photo Collections: Books by DM Davis ________________________________________ October 2016: I'm happy to share my new art book 'Gallery Volume 2 by DM Davis' is now available on Amazon & you can see a video preview of the entire book on my Instagram @dmdavisart (links below). Book features 42 of my creative photography digital art creations. I hope you enjoy -DM Video Preview: https://www.instagram.com/p/BLD4djFg-ZL/?taken-by=dmdavisart 'Gallery Volume 2' at Amazon (softocver/hardover): https://www.amazon.com/Gallery-2-DM-Davis/dp/1367184150/ref=sr_1_1?ie=UTF8&qid=1475412326&sr=8-1&keywords=gallery+volume+2+dm+davis ________________________________________ 'Gallery: DM Davis Creative Photography Art Collection' Full HQ Preview: http://www.blurb.com/books/6575912-gallery Also at: http://www.amazon.com/gp/product/136474841X "Gallery" features 50 original contemporary art creations from digital artist DM Davis. Intended to offer the observer an escape, the collection explores themes of nature, space and challenging perspective, as each of the pieces lives in the space where fantasy and reality blur. Incorporating Davis' original photography and graphic design, the pieces in "Gallery" embrace the modern and abstract in the featured sunscapes and surrealscapes collections. The circle is the center, the sun is the star, and Mother Nature's beautiful creations are showcased in a new light at the "Gallery." ________________________________________ 'Abandoned: Lost Vegas - Great Recession Fallout in Sin City' Preview/Purchase: http://www.blurb.com/b/6242634-abandoned-lost-vegas PDF/Ebook: http://www.blurb.com/b/6207054-abandoned-lost-vegas Also available at Amazon, Barnes & Noble ________________________________________ 'These Wonders: A Photography Collection: Nature, Architecture, the Living Form & Cool Stuff' Preview/PDF/Purchase/Ebook: http://www.blurb.com/b/5980440-these-wonders Also available at Amazon ________________________________________ DM Davis joined Society6 on January 31, 2015
More
Instagram http://www.instagram.com/dmdavisart
Redbubble http://www.redbubble.com/people/dmdavis
Pinterest https://www.pinterest.com/dmdavisart
Hello and thank you for stopping by. I'm very proud to be in the company of such talent here on Society6. Each creation on this site, so beautiful in its own unique way.
I'm a digital artist, my pieces incorporate graphic design with my original photography from various travels and everyday life. My personal favorite creations walk the fine line between fantasy and reality. There's something about the abstract and surreal that challenge our own perceptions of what we know to be true. I feel its in that space where personal evolution can really prosper.
Perhaps most special to me is the unique relationship between an artistic creation and the observer. It's rare any two people will see or feel the exact same thing with any given piece, and that is a beautiful thing. Each of my pieces has a story to tell - what they say, well, that's ultimately up to you.
Thanks again for stopping by - and hope you enjoy :) -DM
---
Photo Collections: Books by DM Davis
---
October 2016:
I'm happy to share my new art book 'Gallery Volume 2 by DM Davis' is now available on
Amazon & you can see a video preview of the entire book on my Instagram @dmdavisart (links below). Book features 42 of my creative photography digital art creations. I hope you enjoy -DM
Video Preview:
https://www.instagram.com/p/BLD4djFg-ZL/?taken-by=dmdavisart
'Gallery Volume 2' at Amazon (softocver/hardover):
https://www.amazon.com/Gallery-2-DM-Davis/dp/1367184150/ref=sr_1_1?ie=UTF8&qid=1475412326&sr=8-1&keywords=gallery+volume+2+dm+davis
---
'Gallery: DM Davis Creative Photography Art Collection'
Full HQ Preview: http://www.blurb.com/books/6575912-gallery
Also at: http://www.amazon.com/gp/product/136474841X
"Gallery" features 50 original contemporary art creations from digital artist DM Davis. Intended to offer the observer an escape, the collection explores themes of nature, space and challenging perspective, as each of the pieces lives in the space where fantasy and reality blur. Incorporating Davis' original photography and graphic design, the pieces in "Gallery" embrace the modern and abstract in the featured sunscapes and surrealscapes collections. The circle is the center, the sun is the star, and Mother Nature's beautiful creations are showcased in a new light at the "Gallery."
---
'Abandoned: Lost Vegas - Great Recession Fallout in Sin City'
Preview/Purchase: http://www.blurb.com/b/6242634-abandoned-lost-vegas PDF/Ebook: http://www.blurb.com/b/6207054-abandoned-lost-vegas
Also available at Amazon, Barnes & Noble
---
'These Wonders: A Photography Collection: Nature, Architecture, the Living Form & Cool Stuff'
Preview/PDF/Purchase/Ebook: http://www.blurb.com/b/5980440-these-wonders
Also available at Amazon
---
DM Davis joined Society6 on January 31, 2015.