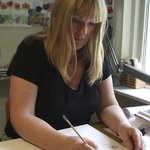 Doggyshop
Info: Doggyshop-keeper: Lene Daugaard. Danish illustrator and painter. I love dogs, and they are one of my top favorite motifs. The easiest way to find y0ur favorite motif, are looking into the Collections - link right below the shopbanner. With this shop, I am dedicated to deliver beautiful dog-decorated items to you. I hope you find something you like. Miss anything - let me know. Loved your purchase - let me know. Any questions - let me know. You can also visit my other store, same motifs, other items: http://www.redbubble.com/people/doggyshop le.daugaard@gmail.com If you want to follow my dog-creations on Facebook: Http://Facebook.com/doggyshop.dk Homepage: http://lenedaugaard.simplesite.com http://facebook.com/lenedaugaardartwork Doggyshop joined Society6 on July 19, 2014
More
Info: Doggyshop-keeper: Lene Daugaard. Danish illustrator and painter. I love dogs, and they are one of my top favorite motifs. The easiest way to find y0ur favorite motif, are looking into the Collections - link right below the shopbanner. With this shop, I am dedicated to deliver beautiful dog-decorated items to you. I hope you find something you like. Miss anything - let me know. Loved your purchase - let me know. Any questions - let me know.
You can also visit my other store, same motifs, other items: http://www.redbubble.com/people/doggyshop
le.daugaard@gmail.com If you want to follow my dog-creations on Facebook: Http://Facebook.com/doggyshop.dk
Homepage: http://lenedaugaard.simplesite.com http://facebook.com/lenedaugaardartwork
Doggyshop joined Society6 on July 19, 2014.