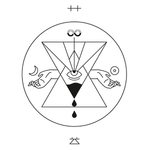 Dolcey & Duke
Dolcey & Duke is a project by Sydney based artist Michelle Louise Michelle Louise is a Sydney based, Australian artist, designer and printmaker. A maker of objects and images. A creator. A destroyer. She is Dolcey & Duke, a name which is a representation of the innate balance that exists in the universe and the male and female energies which coexist in all of us. Having grown up in sub-tropical rain forest nooks of South East Queensland and northern New South Wales' border pocket, nature and its mysterious beauty has long been harvested in her vault of creativity. Obsessed with quantum physics, the cosmos, sacred geometry, nature, and all that it inherently stands for, her inspiration and search for understanding is endless. Through her exploration of photography, digital image manipulation and nature she creates kaleidoscopic digital artworks and large scale psychedelic gardens, amongst other things. The vivid lucid world of Dolcey & Duke wanders the woods, transcending the gaps between mechanical and organic structures. Uniting the two in digital organic harmony, the gap hastily fades into a natural fluidity of digital surrealism. Conjured here is a 1960's emporium of psychedelic nostalgia. The subject of focus for Dolcey & Duke; the mind body dualism and entoptic symmetrical compositions of the world around her. Dolcey & Duke prints mainly to fabric focusing on silks and natural fibers which adds to the natural tactility of the compositions. Observers are quickly taken in awe by kaleidoscopic monuments to nature. For collaborations or commissions dolceyandduke@gmail.com facebook.com/dolcey.and.duke instagram.com/ginger_giraffe_ instagram.com/dolceyandduke Dolcey & Duke joined Society6 on March 15, 2013
More
Dolcey & Duke is a project by Sydney based artist Michelle Louise
Michelle Louise is a Sydney based, Australian artist, designer and printmaker. A maker of objects and images. A creator. A destroyer. She is Dolcey & Duke, a name which is a representation of the innate balance that exists in the universe and the male and female energies which coexist in all of us.
Having grown up in sub-tropical rain forest nooks of South East Queensland and northern New South Wales' border pocket, nature and its mysterious beauty has long been harvested in her vault of creativity. Obsessed with quantum physics, the cosmos, sacred geometry, nature, and all that it inherently stands for, her inspiration and search for understanding is endless.
Through her exploration of photography, digital image manipulation and nature she creates kaleidoscopic digital artworks and large scale psychedelic gardens, amongst other things.
The vivid lucid world of Dolcey & Duke wanders the woods, transcending the gaps between mechanical and organic structures. Uniting the two in digital organic harmony, the gap hastily fades into a natural fluidity of digital surrealism.
Conjured here is a 1960's emporium of psychedelic nostalgia. The subject of focus for Dolcey & Duke; the mind body dualism and entoptic symmetrical compositions of the world around her. Dolcey & Duke prints mainly to fabric focusing on silks and natural fibers which adds to the natural tactility of the compositions. Observers are quickly taken in awe by kaleidoscopic monuments to nature.
For collaborations or commissions dolceyandduke@gmail.com
facebook.com/dolcey.and.duke instagram.com/ginger_giraffe_ instagram.com/dolceyandduke
Dolcey & Duke joined Society6 on March 15, 2013.