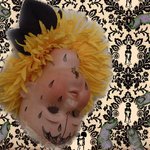 Dolly-Rot
Hello! My name is Amanda Marie Passero. I am an Artist that works with mixed media creating paintings, drawings, and sculptures. I am also a Tattoo Artist, Costume and Fashion Designer currently working in Los Angeles California.
Call or email for appointments or inquiries: dollyrotart@yahoo.com 516-528-8203
www.dolly-rot.com http://www.facebook.com/amandapassero
Artist Statement:
I feel like I have been digging an imaginary tunnel to freedom. The key to open the gate at the end of the tunnel is the unfettered imagination and the creation it facilitates. I have been making art for as long as I can remember. Turning blank pages and found objects into self-expressive works that tell a story. If I do not create I feel as if a part of me has been removed. To create is to be free and whole.
My artistic explorations surrounding identity, individuality, sense of self, internal conflict, and dualities have led me to develop the concept of Dolly Rot. A doll is a toy controlled by an owner. It is played with, used to act out imagined events, dressed up, thrown around, and eventually tossed out. Suppose this doll is a living entity. Perhaps it is you or I. Would you fight to make your own decisions, dress yourself, and live the way you choose by creating the events you imagined for yourself. When you choose to follow your inner guide despite the controls, constraints, judgments and or consequences you may face, you break free. The doll once controlled by social "norms" or internal fears is now rotten and left to establish and question ideas surrounding faith, freedom, spirituality, identity, individuality, and sense of self faced with internal conflicts and dualities within and in a changing world.
My goal in sharing these creations and explorations is to inspire people to think for themselves by questioning everything and formulating their own ideas and views. Our ideas, thoughts, imaginations, and self-expressions are the only truly precious possessions we can ever have or know.
Read more
f432dc62-7c61-4f4c-93db-04257ed679b6

Popular

f02b71bb-0cce-4bfb-a9ef-f76323affdcf

All