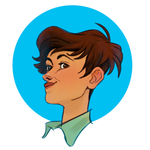 Dominique Whitney
I'm an illustrator currently living in Milwaukee. I love animals of all kinds, exploring, and art making in general. I have a very big place in my heart for historical fashion, iconography, and chicks in armor, but tend to make art of whatever hits my fancy. Thank you for checking out my page! http://dominoka.tumblr.com https://twitter.com/dominoka Dominique Whitney joined Society6 on September 4, 2013
More
I'm an illustrator currently living in Milwaukee. I love animals of all kinds, exploring, and art making in general. I have a very big place in my heart for historical fashion, iconography, and chicks in armor, but tend to make art of whatever hits my fancy.
Thank you for checking out my page!
http://dominoka.tumblr.com https://twitter.com/dominoka
Dominique Whitney joined Society6 on September 4, 2013.