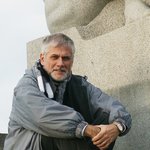 Don Dixon
Don Dixon is a Fellow and founding member of the International Association of Astronomical Artists (IAAA). He has been honored by NASA and the New York Society of Illustrators. His artwork has been featured on the covers of Scientific American, Astronomy, Sky and Telescope, Bild der Wissenschaft, and dozens of books, ranging from physics compendiums to science fiction novels.His painting Red Mars, cover painting for the first book in Kim Stanley Robinson's award winning trilogy, rode the Phoenix spacecraft to a successful landing in the arctic region of the Red Planet on May 29, 2008 as part of the Planetary Society's digital 'Martian Library.' Since 1991 he has served as Art Director at Griffith Observatory, atop Mount Hollywood, where he directed and co-authored the acclaimed full-dome animated film Centered in the Universe. He has been Artist Guest of Honor at several science fiction conventions and has exhibited in Oslo, Berlin, and Washington, D.C. Don Dixon began his artistic career in the 1970's, creating animation to illustrate NASA's early missions to the planets. He has been a guest of NASA at several space exploration "firsts", such as the Viking 1 landing on Mars and the Pioneer 11 flyby of Saturn, for which he designed the mission logo. Like all in the field, Don Dixon was influenced by the work of Chesley Bonestell, who believed that scientific accuracy was essential in the astronomical art genre. He stays abreast of developments in physics and astronomy by consulting with prominent scientists as he illustrates their latest discoveries for popular publications. Most of Don Dixon's early work was created in oil or acrylic paints. Since the late 1990's, his scientific illustrations have been created digitally on a Mac computer. His private commissions and murals are executed with oil paints on canvas or Masonite panel. He lists van Gogh, Vermeer, Albert Bierstadt, and Edmund Dulac among his favorite artists and says that his work is inspired by a sense of awe at nature's beauty, logic, and mystery. He lives in southern California and enjoys classical music, telephoto nature photography, reading history and the occasional thriller novel, and following developments in science and technology. http://www.cosmographica.com Don Dixon joined Society6 on November 26, 2013
More
Don Dixon is a Fellow and founding member of the International Association of Astronomical Artists (IAAA). He has been honored by NASA and the New York Society of Illustrators. His artwork has been featured on the covers of Scientific American, Astronomy, Sky and Telescope, Bild der Wissenschaft, and dozens of books, ranging from physics compendiums to science fiction novels.His painting Red Mars, cover painting for the first book in Kim Stanley Robinson's award winning trilogy, rode the Phoenix spacecraft to a successful landing in the arctic region of the Red Planet on May 29, 2008 as part of the Planetary Society's digital 'Martian Library.' Since 1991 he has served as Art Director at Griffith Observatory, atop Mount Hollywood, where he directed and co-authored the acclaimed full-dome animated film Centered in the Universe. He has been Artist Guest of Honor at several science fiction conventions and has exhibited in Oslo, Berlin, and Washington, D.C.
Don Dixon began his artistic career in the 1970's, creating animation to illustrate NASA's early missions to the planets. He has been a guest of NASA at several space exploration "firsts", such as the Viking 1 landing on Mars and the Pioneer 11 flyby of Saturn, for which he designed the mission logo. Like all in the field, Don Dixon was influenced by the work of Chesley Bonestell, who believed that scientific accuracy was essential in the astronomical art genre. He stays abreast of developments in physics and astronomy by consulting with prominent scientists as he illustrates their latest discoveries for popular publications.
Most of Don Dixon's early work was created in oil or acrylic paints. Since the late 1990's, his scientific illustrations have been created digitally on a Mac computer. His private commissions and murals are executed with oil paints on canvas or Masonite panel.
He lists van Gogh, Vermeer, Albert Bierstadt, and Edmund Dulac among his favorite artists and says that his work is inspired by a sense of awe at nature's beauty, logic, and mystery. He lives in southern California and enjoys classical music, telephoto nature photography, reading history and the occasional thriller novel, and following developments in science and technology.
http://www.cosmographica.com
Don Dixon joined Society6 on November 26, 2013.
Don Dixon's Store
12 results
Filter