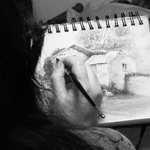 Donna Marie Strachan
I'm a Scottish artist, currently living in London. I work in traditional and digital media, and I also make jewellery and other hand crafts. My work ranges from detailed portraits of animals and nature to crazy cartoon people and creatures. I enjoy the challenge of pushing my creative comfort zone into new areas though, so I intend to broaden my scope from there! Donna Marie Strachan joined Society6 on December 9, 2012
More
I'm a Scottish artist, currently living in London. I work in traditional and digital media, and I also make jewellery and other hand crafts.
My work ranges from detailed portraits of animals and nature to crazy cartoon people and creatures. I enjoy the challenge of pushing my creative comfort zone into new areas though, so I intend to broaden my scope from there!
Donna Marie Strachan joined Society6 on December 9, 2012.