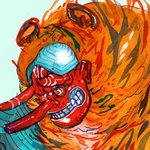 Donald t McCullough
Hello(*˘︶˘*). My name is Donald McCullough and I am an illustrator from Columbus Ohio as well as a graduate of Columbus College of Art and Design(2010). I take inspiration from societal taboos in everyday life to generate illustrations to visibly explain my point of view and out look on subject matter.Specialties are watercolor,gauche,conceptual art,silkscreen and Photoshop. Thank you for stopping by my page.\( ̄<  ̄)> Donald t McCullough joined Society6 on March 23, 2010
More
Hello(˘︶˘). My name is Donald McCullough and I am an illustrator from Columbus Ohio as well as a graduate of Columbus College of Art and Design(2010). I take inspiration from societal taboos in everyday life to generate illustrations to visibly explain my point of view and out look on subject matter.Specialties are watercolor,gauche,conceptual art,silkscreen and Photoshop.
Thank you for stopping by my page.( ̄<  ̄)>
Donald t McCullough joined Society6 on March 23, 2010.
Donald t McCullough's Store
5 results
Filter