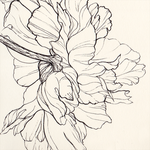 dorothyfatunmbi
Hey, thanks for stopping by! My name is Dorothy. I am a medical illustrator by trade but I enjoy creating fine art as well.
These pieces are a celebration of one of my favorite things to draw–flowers! Their countless shapes and curves are a delightful challenge for me to render in ink.
Flowers are also a great example of the fact that beauty doesn't have one look. I hope that my appreciation shows in the work that I create. Also, if you can identify a flower type that I haven't named, please send me a message!
If you post any of my products on Instagram, please feel free to tag me @dorothyfatunmbi, I'd love to see how you are enjoying my favorite things!
Website: elementusillustrations/portfolio/ Instagram: instagram.com/dorothyfatunmbi/
Feel free to message me about buying original prints or regarding inquiries. Thanks!
Read more
Home-decor by dorothyfatunmbi
174 results
Filter